About this program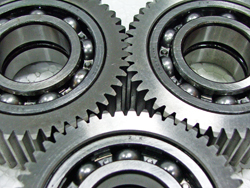 This MSc Mechanical Engineering (with Design or Manufacture) programme will, in addition to advancing the core knowledge base of the discipline in whatever option is studied, provide the necessary and continuing development of appropriate inter-personal skills and therefore enable effective management of resources and planning objectives.
The MSc in Mechanical Engineering has very strong industrial links through its industry advisory board. The school participates in many research activities within the area of mechanical engineering. This includes; advanced materials and manufacturing processes, finite element analysts, computer-aided design and manufacture and machine condition monitoring.
Modules of study in this Mechanical Engineering include:
Project Planning and Methodology,
Strategy and Innovation,
Advanced Computer-Aided Engineering,
Condition Monitoring

Applied Thermodynamics and Computational Fluid Dynamics,
Advanced Engineering Mechanics (Structures),
Advanced Engineering Mechanics (Dynamics)
Specialist Modules (Manufacture):
Maintenance Management,
Manufacturing Management,
Ethics,
Safety and Safety Management
There are opportunities for Mechanical Engineering graduates in the areas of mechanical design engineering, project engineering, manugacturing engineering or engineering sales.
Admission requirements
Students wishing to study the MSc Mechanical Engineering degree should meet the following requirements:
Honours degree from a UK university or equivalent in a mechanical engineering subject or an equivalent qualification from an overseas institution. For mature candidates, equivalence to an Honours degree may be demonstrated
Academic IELTS test with a score of at least 6.0 (no element less than 5.5) or TOEFL with a minimum score of 550 (213 for computer based test).
---
Does this course require proof of English proficiency?
The TOEFL iBT® test is accepted by 11,500 universities and higher education institutions in over 160 countries. Book your test today!
Learn more
About this institute
Glasgow Caledonian University
Glasgow Caledonian University (GCU) is a vibrant, innovative and multi-award winning University for the Common Good. We aim to contribute to society in a manner that embraces yet goes beyond the traditional role of a university. GCU's For the Common...
Read more about this school
Contact info
Glasgow Caledonian University